September 15th, 2022
" Dobroho ranku", or "Good Morning!" in Ukrainian, an Eastern Slavic language spoken mainly in Ukraine. I have decided that the UJT will remain focused on Ukraine until we can all rejoice in the end of hostilities. It has been 201 days since Russia attacked Ukraine.
This week I learned some stuff:
• Well my doctor was able to move my biopsy 2 weeks ahead so I got it done on Friday. I have to wait for the results but soon I will know what little beastie as crawled up my butt and figure out what to do about him.
• I had the opportunity to watch Hook again this week. I miss Robin Williams a lot. Robin, of course, plays Peter Pan (talk about type casting!) and Dustin Hoffman is brilliant in the title role. If you haven't seen it, do yourself a favor and find it. Get some popcorn, and find your happy thought y'all!
• September 15th is the 258th day of 2022. Just 100 days till Christmas! Today in 1835, HMS Beagle, with Charles Darwin aboard, reaches the Galápagos Islands. The ship lands at Chatham or San Cristobal, the easternmost of the archipelago; Today in 1935, Nazi Germany adopts a new national flag bearing the swastika.; In 1945 on this day, a hurricane strikes southern Florida and the Bahamas, destroying 366 airplanes and 25 blimps at Naval Air Station Richmond; In 1947 on this day, the F-86 Sabre sets the world aircraft speed record at 671 miles per hour (1,080 km/h).; On this day in 1954, Marilyn Monroe's iconic skirt scene is shot during filming for The Seven Year Itch; Today in 1967, U.S. President Lyndon B. Johnson, responding to a sniper attack at the University of Texas at Austin, writes a letter to Congress urging the enactment of gun control legislation; The first Greenpeace ship departs from Vancouver to protest against the upcoming Cannikin nuclear weapon test in Alaska today in 1971; Today in 1978, Muhammad Ali outpoints Leon Spinks in a rematch to become the first boxer to win the world heavyweight title three times at the Superdome in New Orleans; The lSenate Judiciary Committee unanimously approves Sandra Day O'Connor to become the first female justice of the Supreme Court of the United States today in in 1981; Lehman Brothers files for Chapter 11 bankruptcy, the largest bankruptcy filing in U.S. history today in 2008;Today in 1254, Marco Polo, Italian merchant and explorer was born; Born today in 1857, William Howard Taft, American lawyer, jurist, and politician, 27th President of the United States; Today in 1890, Agatha Christie, English crime novelist, short story writer, and playwright was born; Roy Acuff, American singer-songwriter and fiddler was born today in 1903; Born today in 1911, Luther Terry, American physician and academic, 9th Surgeon General of the United States; Al Casey, American guitarist and composer was born today in 1915; Nipsey Russell, American comedian and actor was born today in 1918; Jackie Cooper, American actor was born today in 1922; Bobby Short, American singer and pianist was born today in 1924; Cannonball Adderley, American saxophonist and bandleader was born today in 1928; Tommy Lee Jones, American actor, director, producer, and scree nwriter was born today in 1946 as was Oliver Stone, American director, screenwriter, and producer; Pete Carroll, American football player and coach was born today in 1951; Born today in 1952, Night Ranger's, Kelly Keagy, American singer and drummer;Cootie Williams, American trumpet player passed away today in 1985; Johnny Ramone, American guitarist and songwriter passed away today in 2004; And lastly, today in 2008, we lost the co-founder of Pink Floyd, when Richard Wright, English singer-songwriter and keyboard player passed away.
Website Update:
This week:
• A New Vocabulary Quiz A New
• Week two for our Musical Trivia Quiz
• Jessica made us an excellent Teriyaki Stir Fry kit (just add chicken dinner by Taylor Farms). We also had a great salad too! Since I have been exploring turkey dishes, Darrian has been after me to make Sloppy Joes with Turkey. So we did it this week and it was good!
• The Home Page quote this week is my favorite quote from my favorite Gorgi-loving monarchs, Queen Elizabeth II: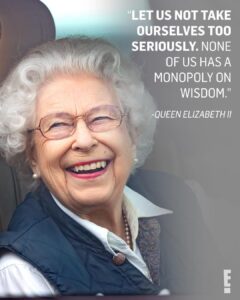 It is also my very favorite picture of the Queen Mother. I had no idea how much she came to resemble my own Grandma Margret. May QE2 Rest in Peace. Long Live the King!
Writing, Ceramics, Bonsai Trees, Stained Glass and Painting Update:
• This week was focused elsewhere – new backyard furniture and medical stuff so all art was postponed.
• I am continuing my streak of slacking off on the paper edits of Grandpa Stories. I just haven't carved out any time for more chapters.
Weird-Stuff-O-Meter:
Twenty-one years ago this week, the worst terrorist act in history took place. For my family and I, it was the first September we spent in our new house in San Diego. I was happy to be back in the US and with EDS from my European Deutsche Bank adventure. But on that day and for many days to follow, we kept watching those terrible scenes of planes flying into buildings filled with innocent people. We watched the US shut down its entire airspace from. Hundreds of millions of people around the world expressed their shared grief and condolences. People in small towns in Canada opened their homes and hearts to stranded travelers. We were suddenly at war with an enemy that honored no rules or boundaries. Our airports and military bases became fortresses of high security screening. Americans set aside their petty differences and focused on our common humanity for an all too brief moment as we watched. Heros – volunteers from all over the US, firefighters, police and medical personal sifted through the wreckage hoping to find someone alive. I remember it well.
We got rain last Friday!!! Woohoo! In fact, our last rain storm was before our kittens were born. When I woke up and came down for my coffee, Hades and Gandalf were both staring out of the sliding glass doors in amazement. Do you remember what you thought when you saw your first rainstorm? Me neither!
Everyone has their own way of doing things. But not everyone is as good at adjusting to others' ways. In the end you will probably get there going either way. How uncomfortable you are during the process has a lot to do with your vesting in having personal control of things. If control is very important to you, your best collaborator is always going to be you and anyone who defers to you in all things. I have found those kind of people to be very rare. There's nothing wrong with that, except you miss the opportunity to practice how flexible you are, learning more about the other people around you and perhaps, even, learning a new and maybe better way to do things. Being in control all the time has some consequences. And it is always a choice.
This week's UJT Radio Program:
• Mike Oldfield — Tubular Bells — This version was made famous as the theme for the movie, The Exorcist. The actual song is a whole side of an album of the the same name released in 1973. The most impressive thing about this song and work, is that all of the instruments on the record(except flutes and string bass) are played by Mike Oldfield.
• Loggins and Messina — Danny's Song — I fell in love with this beautiful song the first time I heard it on their debut album "Sit-in' In " in 1971 . I loved even more when my own song was born in 1975. It was years later that I found out the context of the song. It was written by Kenny as a present to his brother Danny upon the birth of his son, Colin. It's a pretty song that always brings a tear to my eyes. 

• Phoebe Snow — It Must Be Sunday — This is a song only Phoebe could write. It's so sweet and soulful that it makes me feel like swaying with the music. This one comes from her album,"Phoebe Snow" released in 1995.
• Pink Floyd — Welcome to the Machine — From the Vinyl!!!! This is a cut from their, "Wish You Were Here" album released in 1975. This was back when Roger Waters was not much more than a good bass player who could write songs.
• Zucchero — Everybody 's Got To Learn Sometime — I forget how I found out about this guy. But I have enjoyed his music since I found him. I hope you do to. This one is from his "La Sesión Cubana (Deluxe Version)" released in 2012.
• Culture Club – Do You Really Want to Hurt Me – This catchy tune out of transgender-land helped this British new wave or alt rock group's debut album, "Kissing to be Clever" go platinum in 1982. Has anyone failed to scream, "Yes" at their radio when this tune was being so over played???
That's it… Do the best you can; Laugh every chance you get; Always remember… The best is yet to come! As always, thank you for being my friend!