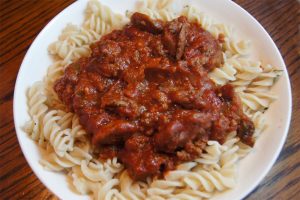 Grandpa's "All Things Italian" Red Sauce
Yeah I know. Italians have a lot of sauces as do the French but for me, an old simple kind of guy, I really only use one red sauce for everything from Pizza, Spaghetti, Ravioli, Tortellini, Lasagna, Pistachio etc. Its a simple sauce, easy to make (cause I cheat a little) with great flavor. I usually make a big pot of it each time. Enough for a 8 large portion Lasagna, plus a couple of other large pasta dinners. Even though this sauce is so simple, it never fails to draw compliments no matter what dish I serve it with.
Ingredients:
1 lbs Sweet Hot Italian Sausage
1 lbs Ground Meat (lean beef or turkey or veal or mixed)
4 cans of Fire Roasted Tomatoes – diced rough (You can use 8-10 fresh Romano tomatoes but since they started this fire roasted line, I have found them to be excellent for my sauce)
1/2 fresh large Sweet Yellow or Red Onion – diced rough
1 fresh large Green Pepper – diced rough
1 package fresh Sliced Mushrooms
1/2 cup red wine
1/2 cup water (adjust for consistency)
1/2 Tbs Garlic or 2 cloves minced
1 Tsp Basil
1 Tsp Oregano
1/2 Tsp Thyme
1 jar of someone's simple marinara sauce (no bells and whistles)
Salt and Pepper to taste
Sugar to taste (This is completely optional – sometimes the acid from all the tomatoes can be a little bitter. My mom used to add a small amount of sugar to take the edge off (1/2-1 Tbs).
Instructions:
In a frying pan, break up and brown the sausage over medium heat. When you are done there should be small kernels of sausage. Some people take the sausage out and put it on paper towels. I like to dump the whole shebang into the big pot when its done.
In a big pot, break up and brown your ground meat over medium heat. As soon as the meat is sufficiently broken up you can start adding your garlic, onion and green pepper. Sauté until the meat is browned.
Add in Sausage and wine to the big pot.
Add Mushrooms, Basil, Oregano, Thyme, salt and pepper. Stir up the mixture.
Add the tomatoes and stir in simple marinara sauce. Simmer on medium heat until it starts to bubble.
I rinse the cans and the sauce jar with a little water to get the last of the goodness and dump the water into the pot. Stir the sauce and taste. Decide if the consistency and flavor is right. Add water, or salt or pepper or sugar to make the flavor and consistency what you want them to be. Stir and reduce heat to low and cover.
Cook for at least 2 hours stirring occasionally. For me, this is the best part. I love to see the sauce magically thicken on the spoon. I enjoy the smells and tasting immensely. The longer you can cook it the more the flavors will blend but I usually turn it off after 3-4 hours and let cool before I put the pan in the refrigerator.
Refrigerate over night and reheat slowly before you make your lasagna. The sauce should be warm enough to flow into all the nooks and crannies but not too hot when you assemble it. Freeze remaining sauce in appropriate portions to the meals you will use it in.