Marsala Tika Chicken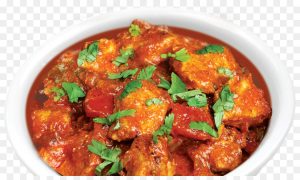 This is a refuge obtained from watching Create TV's Simply Ming. I didn't find out about Indian Food until my days in Rüsselsheim, Germany. My friend, Heide Hoffmann, took me to this wonderful Indian place next to the train station (Bahnhof). After that, I tried to recreate those all those flavors but was limited to Trader Joe's Simmer Sauces. So when I saw Mings shows I wanted to try it. There are a lot of moving parts! And I had to search a bit to find some of the ingredients. But it was really good!
Ingredients:
3 cloves garlic
2 Tbs fresh ginger
8 chicken thighs (boneless, skinless) or 4 chicken breasts
2 Tbs thick whole milk yoghurt
3 Tbs Lemon Juice ( a 1/2 half lemon)
1 tsp ground cumin
1 tsp chili powder
1 tsp ground turmeric
1 tsp ground coriander
1 tsp sugar
1 tsp salt
1 tsp ground ginger
1 tsp ground cinnamon
3 green Serrano chilies, minced
2 Tbs vegetable oil
2 tsp coriander seeds
3 green cardamom
1 large white onion
1 12oz can tomatoes
2 cups chicken stock
1⁄2 cup fresh cilantro leaves, divided
1⁄2 cup dried fenugreek leaves (optional)
3 Tbs unsalted butter
1⁄4 cup heavy cream
Instructions:
Blend together garlic and ginger to make a fine paste. Add a little water and salt.
Cut the chicken into chunks and place in a large bowl . Add the yoghurt.
Combine the dry spices: ground cumin, chili powder, turmeric, coriander, sugar, salt, ginger and cinnamon.
In a large bowl, add chicken, half of the ground spices, half of the ginger garlic paste, half of the chilies and all of the lemon juice. Combine well.
Cover the bowl with plastic wrap and allow to marinate for a minimum of 3 hours but over night would be even better.
Just before the chicken finishes its time in marinade heaven; Add vegetable oil to a pan on medium heat. toss in the whole spices. As the spices begin to pop, add sliced onion and stir until soft and golden. ~3 minutes.
Add remaining ginger/garlic paste to the pan and cook until it loses its raw smell. Stir in the remaining green chili and cook for a further 5 minutes; Then add remaining ground spices and cook for a further 5 minutes. If the spices begin to stick add a tablespoon or so of water to loosen.
Add tomatoes, chicken stock, half the cilantro leaves and the dried fenugreek leaves (if you are using them) to the pan.
Simmer the sauce gently for 30 minutes and then blend in a blender until smooth.
While the sauce is being blended, place the marinated chicken pieces on a wire rack on a baking sheet or if BBQing, putting the pieces on skewers will work fine.
Broil the chicken or better yet cook on a BBQ grill (~8-10 minutes) until they begin to develop a little char on the outside, which adds to the final flavor of the dish, but make sure they don't burn.
Reserve the chicken pieces on a wire rack and capture all their juices.
Add butter to a hot pan and allow to melt.
Transfer the sauce from the blender to the pan and add the heavy cream (reserving a little bit for garnish and cook the sauce until reduced by half.
Add the chicken pieces and their juices into the sauce. Cook gently until the chicken pieces are warmed through and the sauce reaches the consistency you find most attractive (you may add some water to thin if the sauce becomes too thick.
When ready to serve, garnish with the remaining cilantro leaf, drizzle with the remaining cream and serve with boiled rice and hot Naan bread to sop up the sauce..