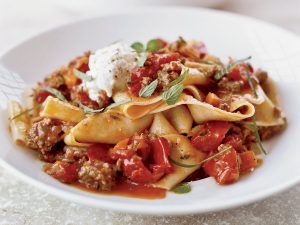 Tagliatelle, Sweet Sausage and Ricotta Ragu
This one is stolen from my new fav Italian cooking show, Lidia's Kitchen. I really like her mom. As usual, I like to make a good idea better so I did some tweaking. the thing about pasta is that I cannot recall having home made pasta of any variety or recipe that I did not like. Pasta = Love. If some shares their pasta with you, they love you. I hope you love this one.
Ingredients
1 tsp Kosher salt (more for the pot)
3 Tbsp olive oil
12 oz. Sweet Italian Sausage removed from casing
3 minced garlic cloves
1 med onion thin sliced
½ tsp crushed red pepper flakes
2 tsp oregano
1 cup mushrooms
1/2 pablano pepper chunk chopped
1 lb Tagliatelle pasta
1/2 cup nice red wine
1-28oz can of SAN MARZANO whole tomatoes, crushed
1 cup fresh ricotta, drained
½ cup grated GRANA PADANO cheese or other parmesan cheese
Directions
Bring a large pot of salted water to a boil for pasta. Bring to a boil.
In a large skillet, over medium heat, heat the olive oil. When the oil is hot, add the sausage and garlic, and cook until the sausage is browned, breaking it up with a wooden spoon as you go, about 3 or 4 minutes.
Add the sliced onion, pepper, mushrooms and season with the salt, red–pepper flakes and oregano. Cook until onion is wilted, about 5 minutes.
Add the red wine and deglaze the pan with your wooden spoon.
Add the tomatoes, slosh the tomato can out with some water, and add that as well. Bring to a simmer, and cook until thick and flavorful, about 20 minutes.
When the pasta is al dente, transfer it to the finished sauce, picking it out of the boiling water with tongs, letting the excess water drip back into the boiling pot.
Toss to coat the pasta with the sauce. Add pasta water if needed to get the consistency right.
Remove the skillet from the heat, stir in the ricotta and grated cheese, and serve.