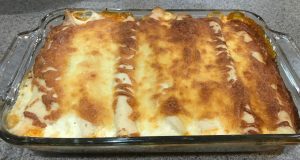 Turkey Chili Enchilada
This one started out with one of Sam The Cooking Guy recipes that I found on (www.samthecookingguy.com). I added a couple of things but it is still so simple and tasty!
Ingredients
1 lbs. Ground Turkey
1/2 Pablano Pepper diced
1 Sweet Yellow Onion – chunked
1/2 cup chicken broth
12 oz Whipping Cream
1 cup Hormel No Beans Chilli
8 flour tortillas
1/2 tsp of Garlic Powder
1 Tsp of Cholula Sauce
1/4 cup Cheddar Cheese
1.5 cup Monterey Jack Cheese
Salt and pepper to taste
Directions
Preheat over to 350 degrees
Brown the Turkey, pablano onions and drain juices
In a large bowl mix browned turkey,garlic powder, chili, cheddar and Cholua Sauce. Let cool.
Pour a 1/8 inch of whipping cream in the bottom of a 9 x12 baking dish
Dip tortilla in chicken broth
Put 2-3 Tbs of mixed filling in the tortilla and roll up. Put in baking pan. Repeat till pan is full
Cover dish with Monterey Jack cheese and remaining Whipping Cream
Place in center rack of oven for 30 minutes or until top is browned and bubbly..
Remove and allow to cool for 5 minutes
Serve with Black Beans and Rice.